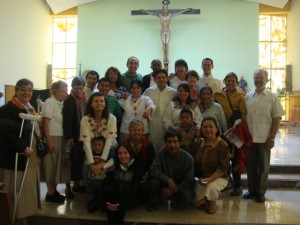 Hello to the Comboni Family and Friends!
On this day I want to greet you with great joy of heart, and united to the Sacred Heart of Jesus, Heart of Mary our Mother in heaven and St. Daniel Comboni. I send a big hug to each of you, wishing you to be great in the mission that each of you have received at this time from our God.
Here I share some photos of the day from our Sending Mass (Caro and mine). It was the Eucharist of Thanksgiving and sending at the end of our Missionary Community Experience and Training as CLM "Comboni Lay Missionaries".
We thank God for this time, for all our life experiences, friendship and knowledge received. Greetings to each of you, I remember with great fondness, affection and respect, and in my prayer and missionary spirit keep join to this family that God has given me. May God bless each and every one of your carnal family and personal friends and also our people where we work. Also attached are some pictures of our training period and Mission Community Experience.
Yours Forever! And thanks for the support and friendship you gave me and Caro in this particular stage of our missionary life.
😉 ISA.