"The position of a missionary disciple is not the center but the periphery."
Pope Francisco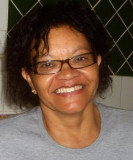 I find myself in this immense periphery of Contagem since six months continuing the mission that Jesus has entrusted to us as CLM's. When I came here I was scared thinking how I could help, because I realized that the community walked pastorally well, each area with its coordinator, everything flowed.
"But when we silenced the heart, God speaks!"
Of course there wasn´t monitoring for the possible vocation to be CLM, but as we know the winds are not to have many vocations, especially in this new context through which it passes our economy in Brazil. But when we silenced the heart God speaks! There is a saying of the Macua people of Mozambique that says: "Yakhala enokhala mmurimani, ekoma khoniwa" (When there is noise in the heart you do not hear the beat). Then, one beautiful day of prayer, I put myself in God's hands and asked the Holy Spirit, with my permission, to place me at the service of the brothers in these outskirts of Minas Gerais.
Therefore it would be necessary to seek new skills. Then I studied Massage Therapy and got some notions of Biomagnetism with Father George and Regina who happily led me.
"In small gestures I found myself with the reality of the people…"
Today, attending people in the Comboni House and in the Study Center of the Sisters in Pampulha, I feel that I just need to surrender and the rest is up to Him. The Pastoral of the Child is also subject to this call, these days we are finishing a training course for new leaders, this time not so worried about the child underweight, but children with obesity from Zero to Six years old. Right now we are working with 8 groups, assisting 200 families and about 300 children are been accompanied by the Pastoral of the Child here in the area of the parish. In small gestures I found myself with the reality of people who seek happiness, health and safety, life in abundance!
The mission today is no longer just the desire to be a missionary, but also training for the rapid changes that are happening and we are not always willing to open our mind, sit down on the benches of the preparatory school to better serve the brothers.
Of course I could not stop talking about the Pope Francisco. I've been in Aparecida do Norte for a meeting of the Pastoral of the Child and I could see him pretty closely, at the feet of the patron saint of Brazil. And in the emotion of the words of our pastor I prayed for all who were lost in drugs, families and to have more vocations in the Church. Thus we continued to walk; together!
By Maria de Lourdes Vieira – CLM Brazil in Ipê Amarelo