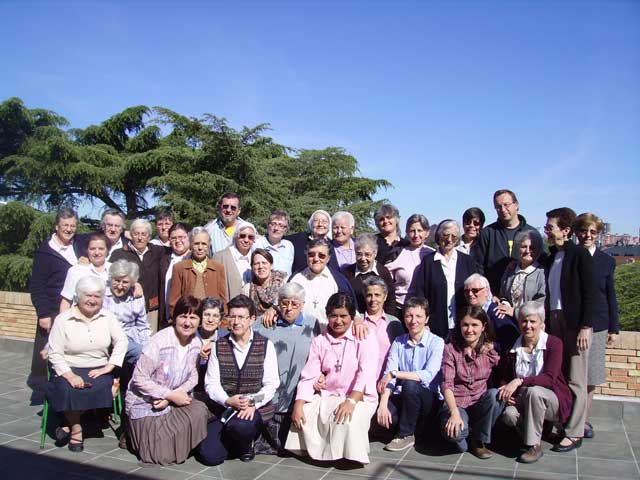 Last weekend I had the chance to participate in the assembly of the Europe province of the Comboni missionary Sisters. In Madrid they reunited sisters arrived from Berlin, Paris, UK, Portugal and Spain each of them with the hope of sharing their day-to-day missionary call.
I know that some people see the assemblies as a few days of long sitting and hearing many words. I think the assemblies of the Comboni Family are moments to share experiences and create missionary illusions.
This province born with the illusion of understanding and propose significant missionary presence in Europe, at a time when the mission is conceived not only as a geographical shift from north to south of the world, but as a meeting with all "South's" that are scattered throughout the world, for a meeting with the brothers and sisters who live apart or are excluded. We met with our hearts full of missionary experiences on African, American, Asian soil that want to show in Europe the need to live in communion with those peoples more poor and abandoned. These hearts cannot close here but also be open here in Europe where there are victims of exclusion, exploitation, poverty … Knit in community, in family, a prophetic life style means to side with the underdog, of those who has less opportunities. Knowing that so many situations in the South are still bleeding but been aware that in this global village the interrelationship among everything, the interdependence makes us stand beside those who suffer anywhere in the globe, in solidarity one with the other, seeking a better world for all, where the causes, actions and consequences of our chores are strongly interlinked in this global village we inhabit.
From this fact we reflected on the need for reconciliation in our communities, in our environment. Only from the love that transforms the heart, and then generates life, we can offer an increasingly fraternal relations, understanding us as daughters and children of the same Father (Abba), enables us to rise above differences and difficulties in establishing bonds of brotherhood.
It has resonate strongly the Comboni´s intuition of the Cenacle of Apostles be made ​of religious brothers, priests, religious sisters, secular and lay as one family. This gift of the Comboni charism challenges us to think together, to work together, to pray together and suggest as a family the need for mission today.
The challenges of ministerial service, the missionary presence wherever we are, in the work of missionary animation (opening doors and windows to make known the life that is in need of our support in many corners of the world), the work with situations of South's situations in Europe like immigrants, trafficking persons, peripheries where commitment to issues of justice and peace is necessary to address situations like a closeness hug to attend people… all networked with the lay that everyday are engaged in these realities, with other congregations, with social entities, with a real networking that fortify the action of every individual and institution engaged in this service to give life in abundance to those who need it most.
Revitalize everyday our community life, where everyone is protagonists, where we may propose a more humane style of life, sustainable, close to the needy, open and welcoming to those around us.
The formation that help us grow in our spirituality, to be attentive to new realities, to be prepared for a better service, which balances our doing with reflection and prayer that helps us to be and work with sense to the everyday of our lives.
To cap we also celebrate the 50th years of votes of three of the sisters present, witness of fidelity and devotion that encourages us in our missionary journey.
Therefore each assembly of the Comboni Family, and this one confirmed, it remains to be a place to pray and dream a better world, to walk together on the path of Emmaus to discover the presence of Jesus that is on our side and unfolds and open our eyes to the realities of this world, encouraged and precedes us on the way to Galilee.
Thanks for these days
Alberto de la Portilla