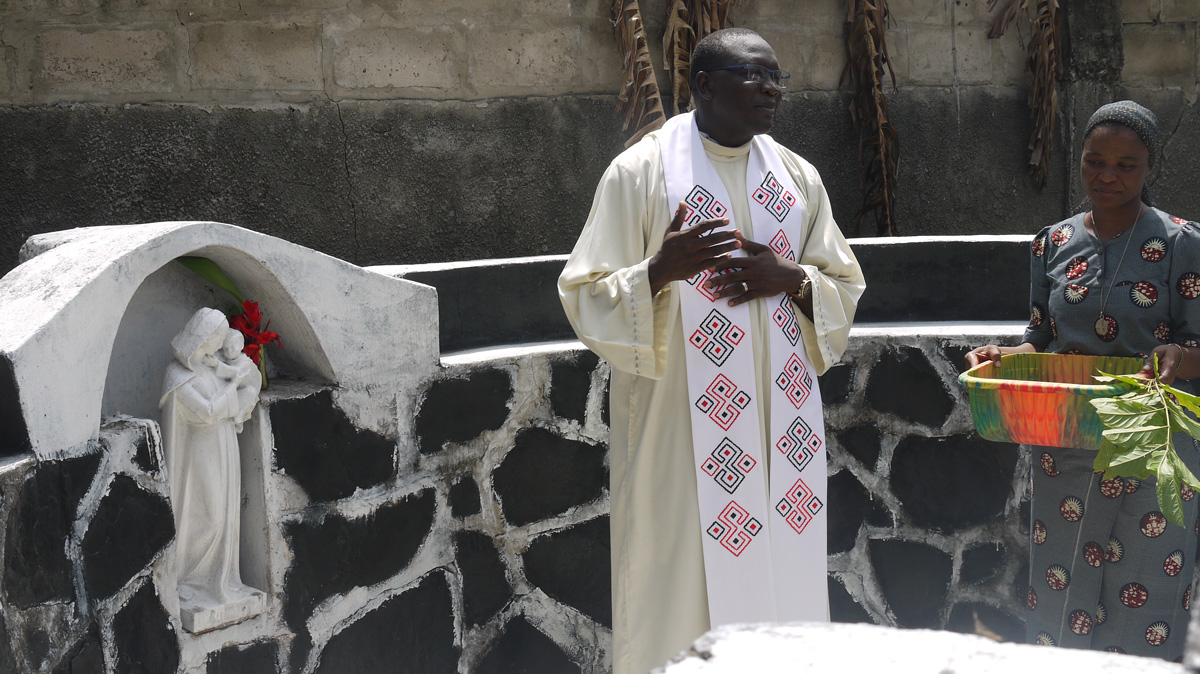 We start our celebration in the Orphanage Marie of Passion at  10:00 am.
The celebration of the Eucharist was presided over by Fr Celestin Ngoré, whose homily was based on, the mission, the gift of self.
After the celebration the sister in charge of the orphanage, invites father Celestin to bless the newly built cave, so we all went to the cave for the blessing, It was a moment of grace for all.
There was a prayer organized by the CLM, we went into a circle, hands in hand praying and asking the intercession of the Holy Virgin Mary, St Daniel Comboni, Blessed Anuarite and Bakanja in union with all the Saints of Africa, to say thank you to God for the gift of CLM in Congo. We entrust our lives in the hands of the Lord, that he, who was kind enough to begin this project, may continue to be the protagonist of our mission, may He gives each one the grace necessary to carry out the mission He entrust us.
We have prayed for the international coordination of CLM's (Central Committee), the African coordination and all of our brothers and sisters on mission. May the Lord lead us, strengthen our relationship and make us a strong family, filled with love, a way of peace and a channel of His grace for His people.
We have also prayed for the MCCJ, thanks for their total support and welcomed us into the Comboni family and for all the time they have accompanied us, like a child that they give birth, they taught us everything and despite our majority today, they do not abandon us. May God fill us with his grace and blessings.
Pray for the orphanage Mary of the Passion that receives us, may the Lord help them so that they never lack anything.
We follow with the animation and cocktail with children; followed by a guided tour of the place. We finished the event at 13:00.
CLM Congo