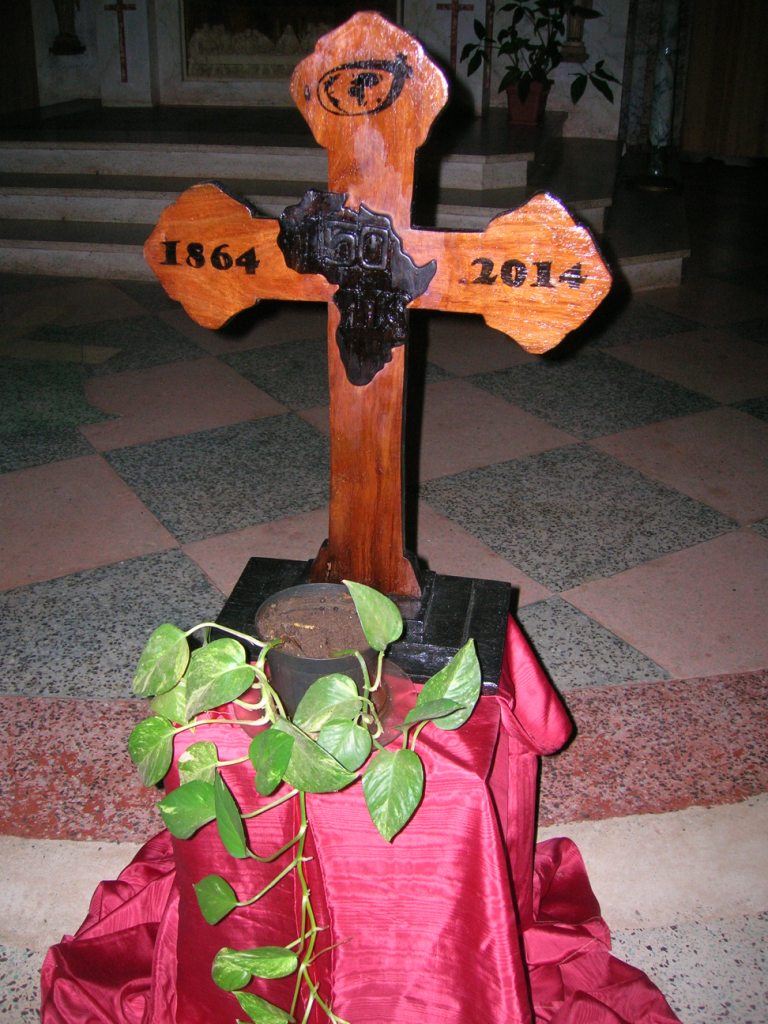 Here, in the Parish of Carapira every Wednesday we celebrate the Mass with the Catholic students of the Industrial School of Carapira and the girls of the female home of the Comboni Sisters, who are students of the elementary school in the neighborhood. This week, on February 19, the celebration took a special issue as a whole, with the opening of the year of reflection of the 150th anniversary of the Plan of Comboni. Anticipating tomorrow's official opening suggested by the Institute of the Comboni Missionaries, this celebration was marked by the presentation of the memorial cross for this milestone, given to each community in the MCCJ Province of Mozambique, explaining to the present its meaning and motivation . Father Gino Pastore, who presided the Mass, highlighted the strength and courage of Comboni and his inspiration in developing the Plan, under the slogan "Save Africa with Africa", thereby motivating the students to become protagonists of their own history, building a better social reality. He launched the Industrial School students who complete 50 years of its foundation, the challenge, inspired by the example of St. Daniel Comboni, that also write the Industrial School of Carapira Plan to comply with this slogan.
On Thursday, the 20th, in the celebration of the Mass with the missionary team, Father Paulo Emanuel stressed that date by reading excerpts from the letter from the MCCJ General and reflecting on the Gospel in the sense of not having the same temptation of Peter of being, even unconsciously, impediment to the realization of God's plan in our lives and in the lives of people.
After dinner, the team met at the home of the CLM in a tone of celebration to mark the day by sharing food and conversation. As a symbol of this meeting to encourage personal and community reflection, each missionary received a message containing one of the questions that were posted on the general's letter of the MCCJ on the occasion of the 150th anniversary of the Plan, in the part that invites us to write our own plan.
May the example of Saint Daniel Comboni follow drawing inspiration for the missionary vocation and that the Spirit of God, the same one that guided Comboni in preparing the plan, enlighten and guide us on the paths of building up the Kingdom!
We are together!
CLM Mozambique