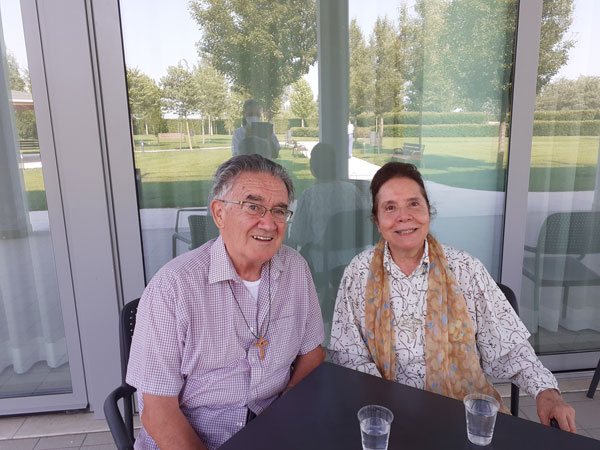 Fr. Francesco Pierli MCCJ and Sr. Teresita Cortés CMS share with us this reflection at the beginning of the academic year.
Dear Friends,
Let me take this opportunity of the approaching of the New Academic Year 2021-2022 to share few feelings anf few thougths with you. It is a great joy for me to be involved in this New Academic Year you are about to start. My mind goes back to the numerous years I was in Africa living with many of you the adventure of studying and researching together. If we are interested in succeding in whatever adventure we plugged ourselves into, it is important to shake hands with others. Beeing together it is God's dream and an essential condition to be successful in whatever initiative we take. Fraternity and cooperation are two cornerstones of social ministry for social transformation from the very beginning. Let us continue to develop our passion and methodology for collaboration and togethernes men and women. Let us look at each other with appretiation and friendship. Our committment to collaboration assures God's presence in our midst as Jesus clearly states in Chapter 5 of his Gospel.
Togetherness, mutual acceptance and collaboration are oustandig marks of social ministry meant for social transfomation of any environment. May yhe Holy Spirit grant us all, new joy and fraternity ever more. Fraternity is needed all over the world, and so as well for us to start anew in the new conditions we come to the University now.
I am aware of the hardships you are undergoing, both students and lecturers, in this time of global planetarian health crisis, due to the Coronavirus pandemic and othe catastrophies. I also had my part in times of isolation, loneliness and lack of socialization; not being allowed "to shake hands". But now, let us be united and build anew our relationships. That would will be the way to grow stronger and we will regain hope and trust in a better future for our beloved Kenya and for the world. May the Holy Spirit show us ways to build bridges among individuals, families and nations and to sow the seed of collaboration. This hign value I am insisting about, is one of the strongest objectives of social ministry while bringing different ethnic groups, different religions, any diversity among cultures together. Especially bringing men and women together, according to the indication of God's Word, according to the social teaching of the Church, becoming bearers of this new vision of Social Transformation which means to overcome even the old fashioned apostolic style where only men were supposed to be in leadership. I do not believe in a Kingdom of God built only by men; they alone do not generate life. New life comes only through "team spirit" where men and women with equal dignity and mutual respect and understanding creatively generate the Social Transformation. This is already your Movement for Social Transformation….!!
I invite you, to look attentively and with contemplative eyes, at the picture which is at the apse of the main Hall at the Tangaza University College which shows how our equal footing, together male and female, create and bring equilibrium to God´s Creation. Let us start this Academic Year with "team spirit", with joy, with new courage and new hope.
Thank you and be reassured of my daily prayer for each one of you.
Fraternally, Prof. Fr. Francesco Pierli MCCJ LTh. Sr. Teresita Cortés Aguirre CMS