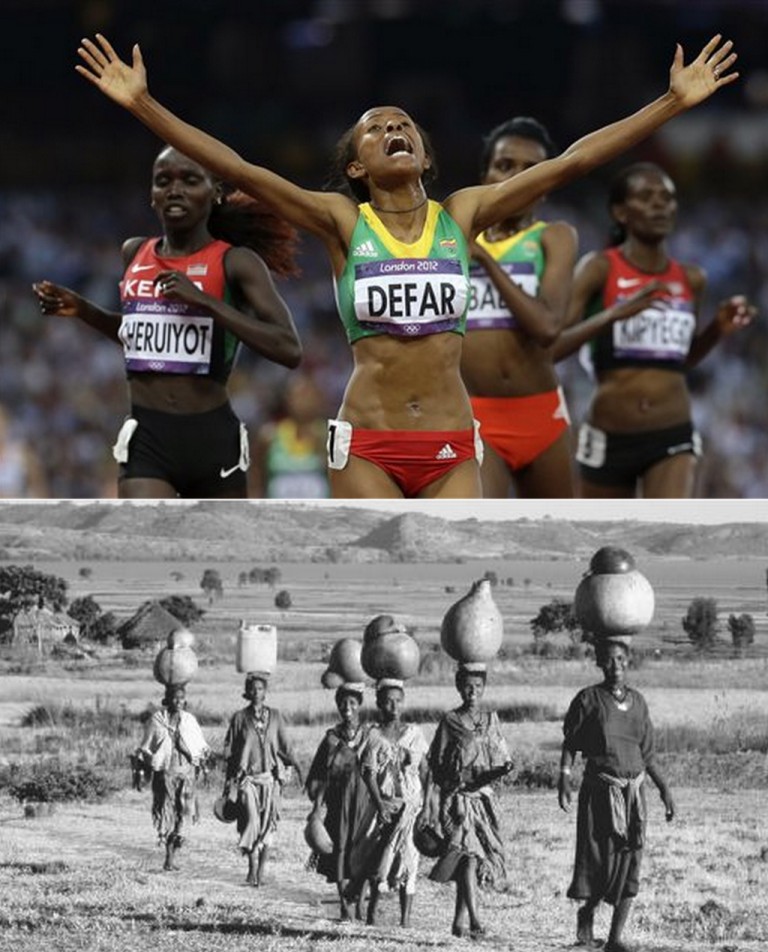 "Consider it all joy, my brothers and sisters, when you encounter various trials, for you know that the testing of your faith produces perseverance. And let perseverance be perfect, so that you may be perfect and complete, lacking in nothing."  – James 1:2-4
Ethiopia has been known for her long distance runners since 1960, when a shepherd's son, Abebe Bikila, stunned the world by winning the Olympic marathon gold medal running barefoot in Rome.  Ethiopians dominate the endurance races, which is particularly amazing for a country well acquainted with poverty, famine and war.  How do they do it?  Some say genetics or high altitude training, perhaps the running culture and presence of role models, or patriotism.  I think there is something more – a virtue that permeates not only the athletic world but all life in Ethiopia: perseverance.
A few months ago we watched Town of Runners, a documentary film about young runners from Bekoji, a small highland town in Ethiopia, which has produced some of the world's greatest distance runners.  At the heart of the film is Sentayehu Eshetu, also called "Coach", the man who has formed most of the young runners for 25 years on a voluntary basis.  At dawn each morning he guides an enthusiastic group of 250 youngsters through a punishing workout.  In the film, Coach is asked "what does it take to be a great runner?" and he replies three things:
Food
Rest
Perseverance
His list surprised me, because to be a world class athlete elsewhere in the world, surely the coach would have said talent or natural ability.   The first two points illustrate the challenge of poverty in Ethiopia (which I witness on a daily basis), where food is often scarce and survival means working long hours without rest, farming by hand and ox, tending animals, hauling drinking water and collecting fire wood. Reflecting on Coach's third point is a key for me to understand not only the successful athletes here but the Ethiopian psyche.
What is perseverance? It is the continued effort to do or achieve something despite difficulties, failure, or opposition. It is a virtue that forms the strong character we have witnessed in our colleagues, friends and community here.
One of the first Amharic proverbs we learned upon our arrival to Ethiopia was: "Qes be qes enkulal be eger yihedal."  An English translation would be "slowly slowly the egg will walk on his legs." Or in other words "perseverance enables one to accomplish great things".   Haile Gebresellasie, one of the world's most highly decorated runners, grew up 10 km from the nearest school. There was only one way to get there: run. Be it hot, cold, windy or rainy, he ran ten kilometers to school every morning, and the same back every evening.  This put a lot of miles under his feet.  You may even notice a peculiarity in his running posture that his left arm is still crooked as if holding his school books.  Haile is perseverance and his 27 world records attest to it.
The Ethiopians on the podium demonstrate this trait clearly to the world but it is present in the rural villages, in the mother persevering with a baby tied to her back completing daily chores despite no electricity and water, in the strong faith in God of the Christians here, in the high school student persevering with her homework sitting on the mud floor by candlelight, in the farmer persevering in the heat of the day weeding fields by hand.  It is a virtue taught by the difficulties of life here.  There is no other way but to persevere.
– Maggie
Maggie, Mark and Emebet Banga, Comboni Lay Missionaries, Awassa, Ethiopia