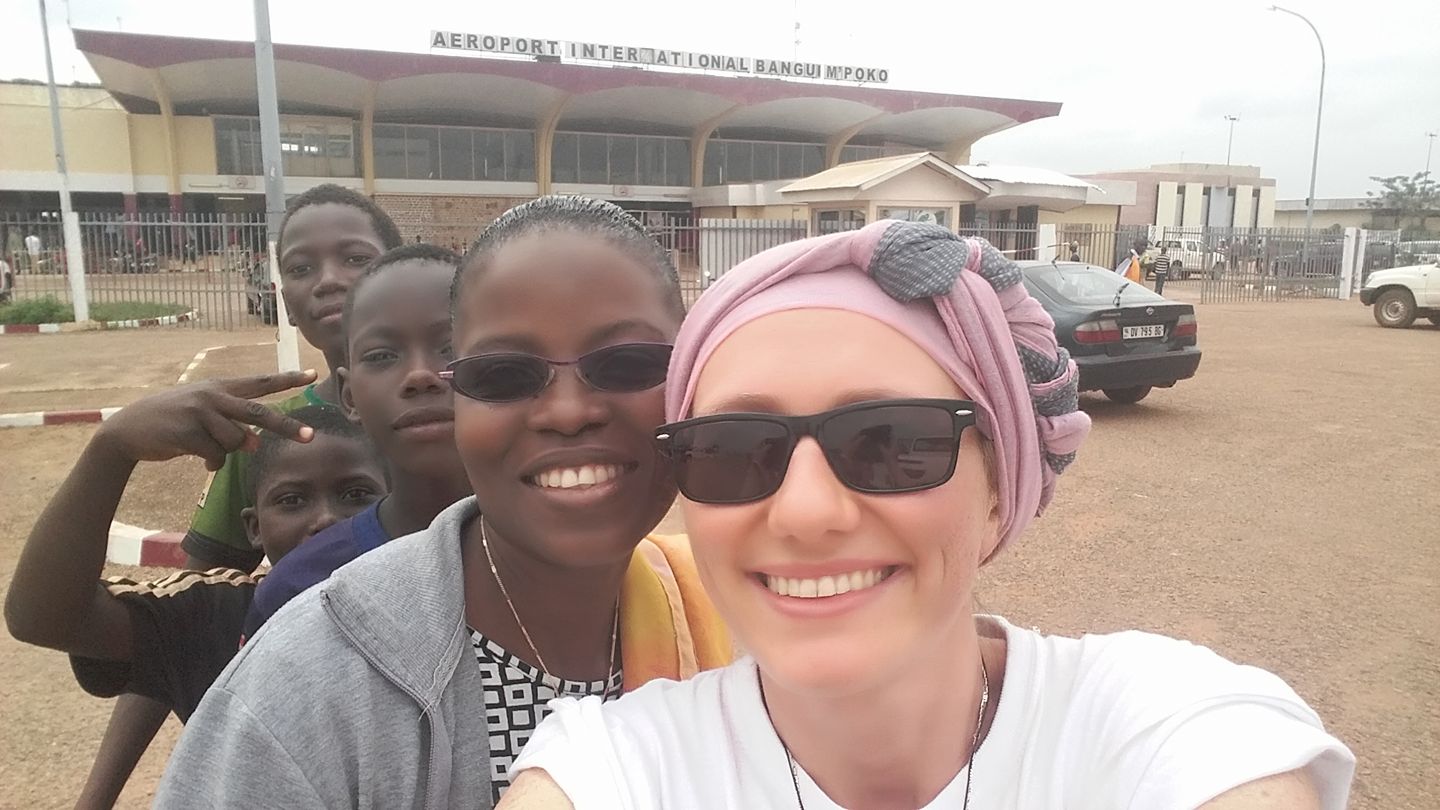 We arrived in Bangui to meet Irene, a CLM coming from Kinshasa. She is from the Democratic Republic of Congo group and will stay with us for about a month. A very charming person. May God allow us to give her a good missionary experience and an unforgettable one for her.
We brought along one of the orphans to whom we feed maternal milk. Her name is Mervelle (Wonder) and she weighed around 4 pounds at birth. She is now five months old, is growing normally and weighs in at 11 pounds, but by December 2 she had lost over a pound and the grandmother said that she had diarrhea. We immediately sent her to the UNT and she was admitted. She was undernourished, and had a fever on a daily basis… Both the director of the hospital and Tenda, another medical colleague, thought that she may suffer from meningitis, so on Wednesday we decided to transfer her to Bangui.
We reached Emergency, an Italian NGO working in the pediatric division of the hospital in Bangui, on Friday around noon and left at four. She was checked from top to bottom and x-rays of her lungs were taken. In the end, Mervelle, our Wonder, was admitted to the ICU for pneumonia, and with symptoms of meningitis, anemia and malaria.
They immediately started to give her oxygen. It was difficult to get enough of her blood for analysis. May God help her to recover quickly, if it is his will! May he watch over her. Today is Sunday and, thanks be to God, a nurse told us that she is doing better.
On December 8 we celebrated the closing of the Year of Mercy with the participation of the entire parish. The Eucharist was very lengthy and lasted three hours, but everyone was happy. At 6:00 in the morning we said the rosary, accompanied by many songs, as we took the image of Mary in procession through the communities of Mongoumba. The faces of our people were glowing with joy and with devotion to our Heavenly Mother.
The Family Jubilee was a success. We held catechesis for both parents and their children. It was good to see the parents and their children take part in the Eucharist together, because they usually do it separately. After Mass, each couple went out looking for a couple that was not married in Church, taking upon themselves the responsibility to catechize them and prepare them to receive the sacrament.
We also want everyone to know that now we have a new car! We thank the Comboni Missionaries of six provinces who shared with us the donations of their benefactors. We are grateful to God who gave them the inspiration to help us, to show solidarity and love.
Do not forget to pray for us. We pray for you.
WE WISH YOU ALL A HOLY CHRISTMAS AND A GOOD 2017 FILLED PEACE, JOY AND MUCH LOVE.
Hugs and kisses from the CLM Anna and Maria Augusta
Mongoumba, CAR