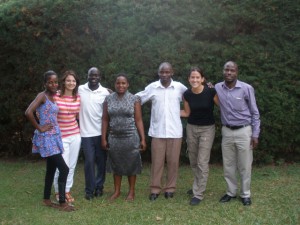 The Community in Gulu is complete, we have finally met with Ewa and Joana waiting for us with open arms in St. Jude Orphanage.
Monika and I now fulfill our second week and we are celebrating with an intensive "Acoli" language course, that will allow us to communicate and try to learn and understand those who are our brothers for these coming years.
The first days in Kampala, we had occasion to meet with the Comboni Lay Missionaries and share an interesting talk about how we are going to organize this time we will be in Uganda with them. They explained how they live the lay status, what are their plans and dreams, their limitations, and personally made us very excited to check that we are much closer than we thought.
We also share dinner and prayer in a very friendly atmosphere and with the feeling of being at home. It is a fortune for us that there are CLM in Uganda and Gulu, because we'll just join what they are already doing and see what may occurs being together.
The next day paperwork and preparing for the long journey that leads north to Gulu. We said goodbye to the Community of Comboni Fathers in Kampala so well received and welcomed us on our arrival.
These are days of discovery, "landing" in a new land, it is time to observe and enjoy the contrasts.
We have also been fortunate to meet Dana (Polish Comboni Lay Missionary, who is completing her service time in Matany) and Marco and Maria Grazia with their sons Francesco and Samuele (Italians Comboni Lay Missionaries) who also complete their mission time in Aber. We went to visit them accompanied by F.Ramón and F.Luigi.
Just one day to share experiences, but enough to see that it was a nice life time for all of them.
It is very positive for us to meet other lay people nearby Gulu who knows realities, is positive as well listening stories and experiences of those who have preceded us, which help us to place ourselves before starting to take over our reality.
That is our time to learn Acoli, sharing Eucharist, meals and tours with Acoli people and the Comboni family and quietly enjoying what Uganda is giving us these first days.
Carmen, Monika, Asia and Ewa