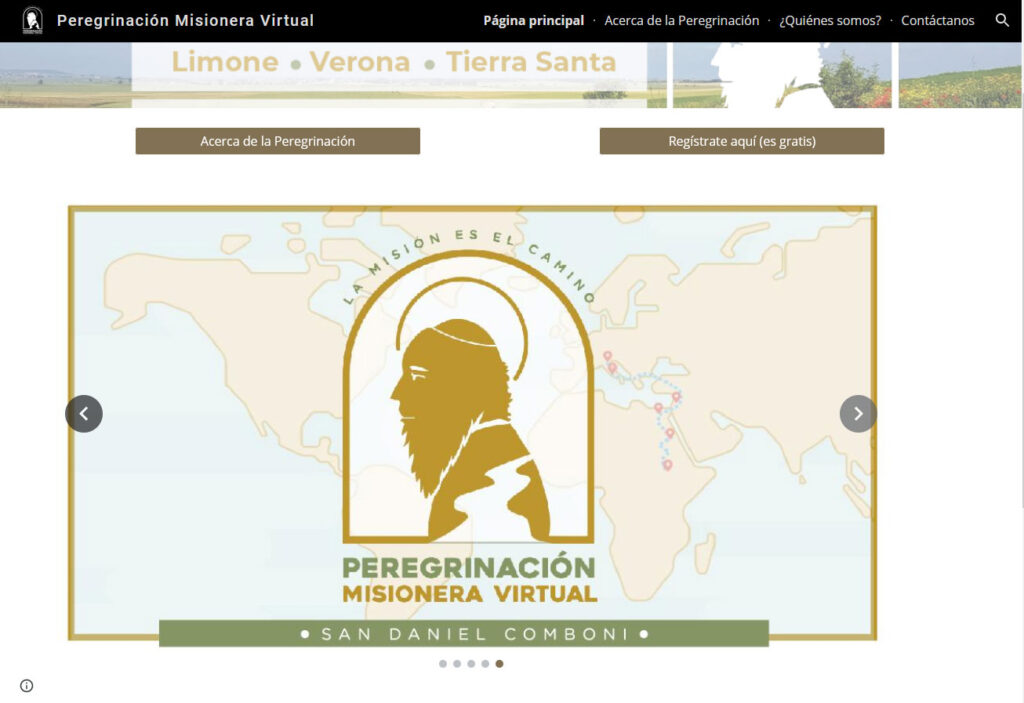 Dear friend,
Do you have your backpack ready? We have prepared a virtual missionary pilgrimage. Don't be afraid, we are not going to walk 30 km every day (well if you want to…). What we will need are minds and hearts full of passion, can we count on you?
[I have to inform you that the pilgrimage will be in Spanish]
WHAT IS A PILGRIMAGE?
Pilgrimage: From Latin. Peregrināri. 1. A person's saying: To walk in strange lands. 2. intr. To go on a pilgrimage to a shrine for devotion or for a vow…
WHAT ARE WE GOING TO DO?
– Visit virtually 7 places that marked the life of St. Daniel Comboni, starting in Italy and ending in Sudan.
– Get to know the Comboni Mission and St. Daniel Comboni, its founder
– Discover his passion for Christ, for the mission of the Church and for the African people.
– To have moments of silence, prayer and meeting.
– To ask ourselves what is our mission wherever we are.
WHAT IS THE JOURNEY?
1. Limone Sul Garda (Italy)
2. Verona (Italy)
3. Holy Land
4. Rome
5. Nile River
6. Malbes (Sudan)
7. Khartoum, Sudan.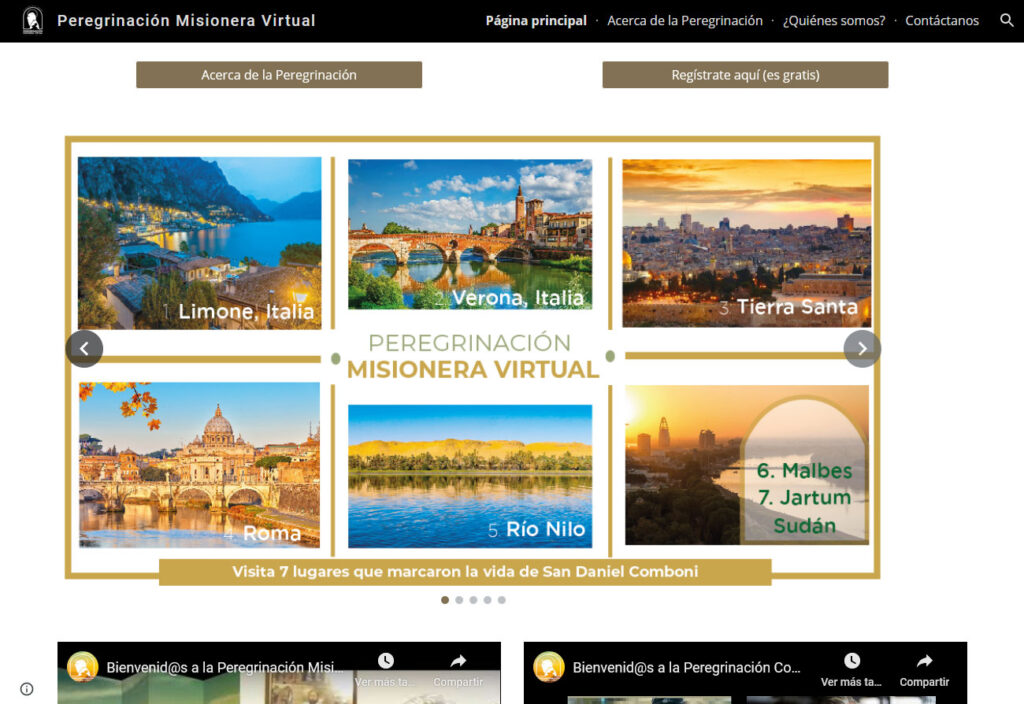 WHO CAN PARTICIPATE?
All those who wish to participate.
HOW ARE WE GOING TO DO IT?
– You must register in the pilgrims' registry. When you do so, you will be able to access the content of the first stage.
– In each one of them you will be able to enjoy: virtual tour, missionary testimonies, reflections, prayers, some history, many stories? and a very good atmosphere.
– Before moving on to the next stage you will have to answer a brief questionnaire. This will give you the key to access the next stage.
WHAT IS NEEDED?
– A computer or a cell phone
– At least one hour every day (x 7 days). The pilgrimage is designed to be done in 7 days, but don't worry, if you need more time, the materials will be available.
– And above all, a lot of desire to live this experience.
DO YOU HAVE TO PAY ANYTHING?
– God's grace is FREE! But if it has helped you, invite others, don't keep it just for yourself!
AND WHY EMBARK ON THIS?
Because it is worthwhile to live an adventure with Jesus and with Daniel Comboni. The missionary and prophet who went beyond his time and his land. He gave up everything for the mission and consecrated his whole life to an ideal: "To save Africa with Africa".
What better travel companion than someone who travelled through 3 continents in the 19th century without a plane! He sailed the Mediterranean Sea; he crossed Europe by train; he travelled the African deserts by camel and the Russian steppes by sledge; he even saw the crocodiles of the Nile up close and travelled on foot many of the roads of Africa! And why all this? Because Daniel Comboni lived with passion the call to make Christ known to those whom history and society had left out.
Are you ready to embark with him on this adventure?
STARTING THE MISSION: 3, 2, 1…!
If you are interested in participating:
Registration: https://t.co/ge6WNoxD5t