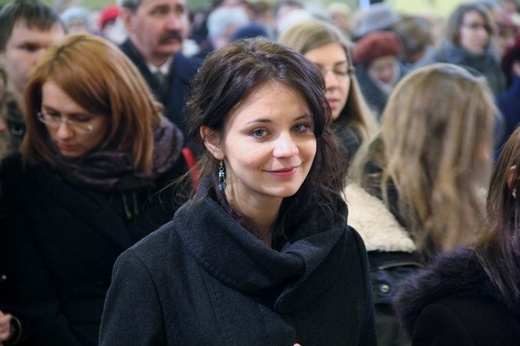 "The mission is not going away, because the mission is not a touristy tour of the world, but we are sent on a mission"- emphasized Archbishop Victor Skworc, who sent Monika Krasoń our Comboni Lay Missionary from Poland to work in Uganda. Monika will go on mission to Gulu, where she will work in an orphanage which is led by Comboni Missionaries. She will spend two years serving the poorest and the most abandoned and she will give a testimony of love of God, who doesn't forget about Africans.
The official sending took place on 12th January in her family parish in Łaziska Górne. It was in the church of Our Lady the Queen of the Holy Rosary in the presence of family, friends, Comboni Missionaries, Comboni Lay Missionaries and all parishioners. It was an unusual event, because Monika is the first missionary in her parish.
In the homily Archbishop emphasized that we are responsible for the future of the Gospel and we have to share with those who hadn't heard it yet. Everyone is called to be a missionary, no matter if it's in their country or in a missionary country which is distant, sometimes thousands of miles away. Monika decided to go to Africa. It is a very beautiful work, but also very difficult, so it's important to support her, especially in prayer. The Archbishop assured Monika that the Church and her parish will support her CLM commitment both in prayer and through material support.
Monika received a cross from the Archbishop. That cross will be a guide in her missionary work, help in danger and give consolation in difficult times. It was an unusual and beautiful experience for Monika which means the real beginning of the mission. We wish Monika all the best, beautiful moments in Uganda and good mission experience among the Acholi. And of course we all promise a memory in prayer.
Polish CLM