(We open a testimony that we will send in three different moments)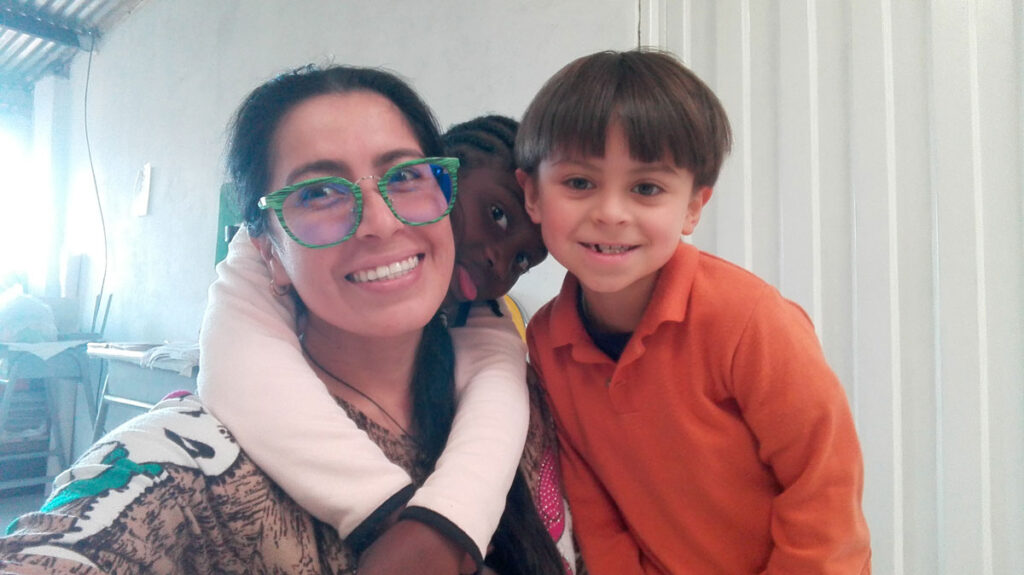 Many times we make decisions inspired by a dream, an impulse, by necessity or because we want to meet ourselves, to define new goals. Thus began my desire to do mission; at the beginning I saw it as a requirement to do mission on the African continent, a continent that has always inspired me the desire to know it since I finished my career as a psychologist.
My mission experience allowed me to meet God in different faces, in different actions, in different details, to meet children, youth, adults, women and to be part of a team, a fraternity, the unity of women of different ages and with different personalities are part of the beautiful moments that this year of mission contains.
Christmas Novenas in Bajito Vaqueria
On December 16, 2019, I met the famous Father Danielle (everyone speaks very well of him) from Tumaco, a charismatic man, loving with his people, proactive, funny, intellectual and respectful, who allowed me to come to his house and gave me the opportunity to know Bajito Vaqueria (an island near the town of Tumaco). There I stayed for eight days with my partner Alejandro in the house of Mrs. Marta, who welcomed us with her son Jorge and her daughter-in-law "Dianita". I met children, young people, shell fisherwomen and men who are absent during the week because they are out at sea with their boats.
Bajito Vaqueria is an island that welcomes you with a super long cement port, which connects you with the sea and with its beautiful colorful wooden houses, with a chapel in the center, a kindergarten that has around it stairs that allow women to sit around it in the afternoons to play bingo, an educational institution in which its stairs were the perfect space to rehearse the "arruyos" or Christmas carols that were played every night of the novena, a soccer field and next to it an arm of the river that joins with the sea.
This place had something perfect for me, there was almost no phone signal, this gave a lovely touch to my Christmas mission, because it allowed me to disconnect and appreciate the times, the landscape, the conversations with the women who told me about the history of this place, they taught me to prepare some typical dishes and also to extract the product of the shell. In addition, it also allowed us to play with the children and although the stay was short, we carried out several activities such as: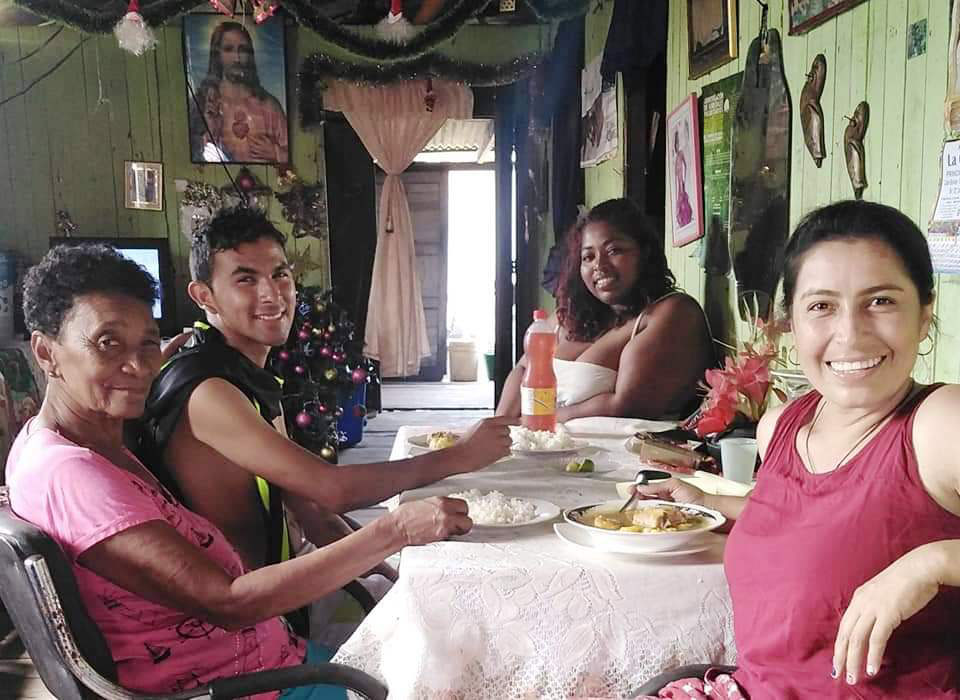 The assembly of the nativity scene in the church with the help of the children.
A choir accompanied by recyclable instruments such as bottles and broken buckets, where for the first time in my life I knew the famous "arruyos".
Cleaning of the main streets of the village so that baby Jesus would arrive and feel that he was in a clean place, because it was already beautiful!
Games in the afternoons where we did acrossport, races, bible review, teamwork and water games.
Sharing a little bit of my llanera culture and doing a choreographed assembly of a Joropo with beautiful dancers from the Pacific.
Conducting a raffle so that Dianita could go to visit her family in Ecuador that Christmas.
They were eight days that opened the door to my year of mission with the Comboni Missionaries, eight days of laughter, of having the chapel full at night doing the novena, of seeing the children dance in an extraordinary way, eight days where God was making me attached to this decision that I had taken.
Altos de Cazucá- Where Children Let You Know a Little of the Kingdom of God
In January, I arrived at Barrio el Oasis (Municipality of Soacha), this would be the place where I would stay for the rest of the days and months to make a more exciting and constant experience. I started with a week of cleaning at the house of Father Franco who welcomed me for a month and a half, while I got a job that would allow me to pay a rent. I admit that the first weeks were full of not so positive emotions, because my parents questioned my decision to leave aside the studies I have and the lifestyle I was used to, it was not easy (I admit it) to have calls where you hear that your parents are crying and asking God that I rethink my decision. I was also asking my God that they would support me and that their attitude would change.
I was received by a mission team made up of Marisol (a laywoman from the fraternity of Charles de Foucauld), Sister Yolanda (a Juanist Sister), Father Franco (Comboni Missionaries) and Vane (a Comboni Laywoman who would move to live with me in the following months). With them, bonds were woven and they shared with me a little of the realities of the neighborhood. I started my mission with some savings and with the hope of getting a job soon that would allow me to support myself or cover my necessary expenses (rent, food, cell phone plan and medicines).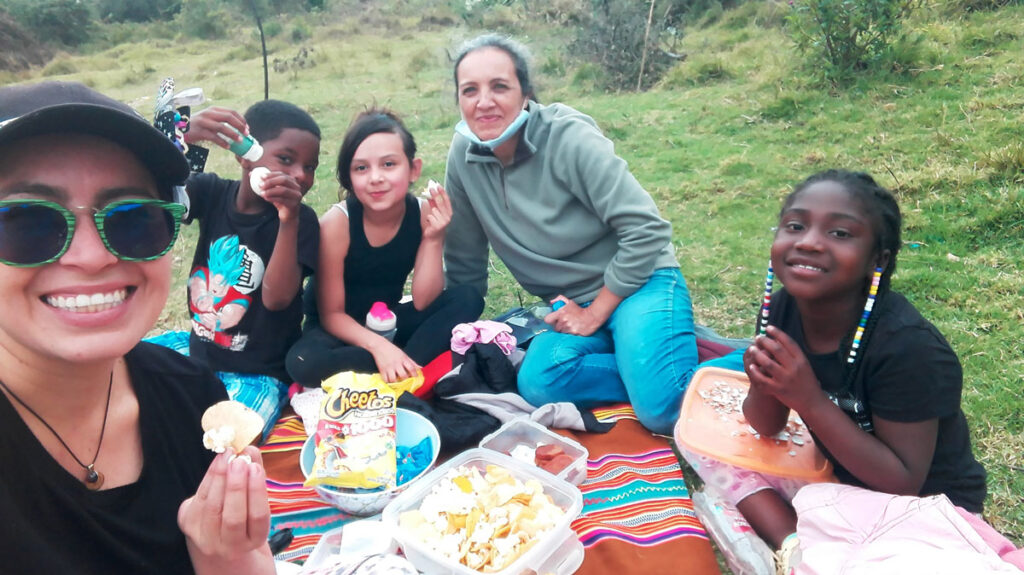 Thanks to Sister Yolanda I was able to contact Father Julio Castillo of the parish of Santa Maria de Cana and he gave me the opportunity to work, part time since February, earning half the minimum wage (that job was perfect), where I worked as a secretary and sacristan for three months. Having a job helped the idea that Vane and I had of renting an apartment, having our own space and being able to feel comfortable from there, so by the month of March we moved to an apartment one block above Father Franco's house.
Alexandra Garcia, CLM Group of Colombia