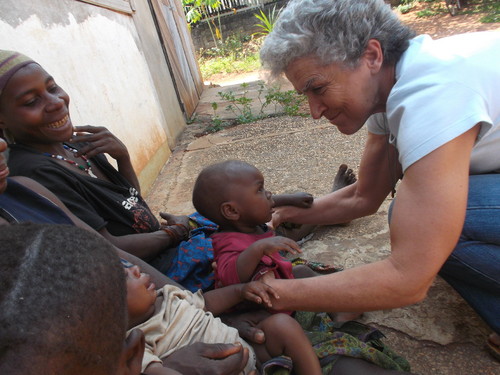 The Comboni Lay Missionary María Augusta Pires, from Janeiro de Baixo, who is stationed in the mission of Mongoumba, Republic of Central Africa, took advantage of a trip to the capital city of Bangui to send us news. Let us pray for peace in that country and for all the missionaries! We relate here the text she sent to "El Astrolabio,"the paper of her parish on May 25:
I and the members of our apostolic community are in good health, thanks be to God.
We are in Bangui to do some shopping… Ana had planned her return on the 18th, but had to delay it until June 8. In any case, we had to come to the capital because our supply room was almost empty.
On June 12 Gervelais and his father are returning from Dakar. We are grateful to the Lord because the surgery was a success. I hope he will be happy and in good health.
On May 11, a patient of the hospital was shot dead. He had been accused of "likundu" (sorcery). We are all sad because of this. We hope that justice will be done and that the killers will be caught, starting with the authorities who denied him protection… We pray to the Lord that he may help us to defend people weighed down by this curse. There have already been several cases of people who were accused, but were protected by the mission or by courageous Christians. May the Lord of life stop this from happening anymore and that all Christians may find the strength to denounce this type of violence.
On May 1, in Bangui, in our parish of Our Lady of Fatima, during Mass, 16 people died and 100 were wounded because of a rebel attack. By the end 22 died, including a priest who was concelebrating. The people of this neighborhood still live in fear of being attacked again. Pray for these people who by now are tired of suffering…
God willing, I will not come back to Bangui before my departure for Portugal, because in June I will be very busy with the evaluation of the students and the conclusion of the course. On July 4 I will live CAR and will be in Lisbon by 5:00 PM. It will be like last year. God willing, I will return to my mission in early September. Cristina is energized and keeps on learning Sango, the local language.
Let us keep united in prayer, because it gives us strength and courage. A great missionary hug, as large as the world, to Fr. Juan and Fr. Orlando and to all the faithful entrusted to you. See you soon!
With great friendship
Maria Augusta
For the "Astrolabio"
ANO V – Nº 121 – 3 de Junho de 2018
Paróquias de Cabril, Dornelas do Zêzere, Fajão, Janeiro de Baixo, Machio, Pampilhosa da Serra, Portela do Fôjo, Unhais-o-Velho e Vidual