Organization of the CLM in the country
The CLM-Uganda started in year 1999 with a small group of three young Men and two Ladies who were inspired by the love, meekness and charity, which the Comboni Missionaries were showing to the people in the nearby slum area of Kataza in the capital Kampala. Moved by such acts of charity and love, these young ladies and gentlemen opted to work with the missionaries thus availing themselves for this new venture (Comboni Lay Missionaries). They started their formation period on January 10, 2000. The group has now grown to 24 members and we pray that may the good Lord continue to multiply the group.

CLM-Uganda are a group of people, male and/or female, single or married, who have felt a particular vocation offering a period of their life to the evangelizing mission of the church following the charism of St. Daniel Comboni. In so doing they give witness to Christ through their personal human and Christian maturity, their professions and /or activities of direct evangelization.

After formation, they are sent two-two to the missions where their services are needed and live in community sharing everything in common. They offer a percent of their salary to the group to cater for formation and administration. Throughout the mission, they maintain the elements of formation such as; Morning and Evening prayers (Louds and Vespers), Daily Eucharist, Regular sacramental life, missionary/pastoral commitment and at least 30 minutes of personal prayer on the word of God daily. 

To join the formation program, one is required to have completed
O-level certificate up to 28 aggregate

Diploma in technical, teaching or other professional skills helpful in the missionary field.

If ''b'' is not possible, they must at least have a valuable experience in any trade or pastoral work.

Recommendation letter from their Parish priest or other reliable people stating their profession expertise and good Christian life style.

Must have received all sacraments of Christian initiation (Baptism and Confirmation).
Meet the CLM in Uganda
How to contact
Address and phone:
Comboni Lay Missionaries-Uganda P.O Box 3872, Kampala (U)
Phone: +256 / 782670006 / 702018660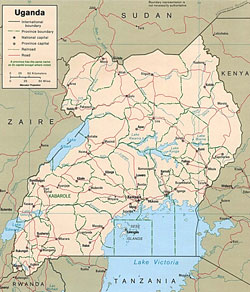 Surface: 243.411Km2
Population: 33.640.833
urban (15.8%) rural (84.2%)
Capital: Kampala
Languages:English (official language). The three major indigenous language families are Bantu, Central Sudanic, and Nilotic. Swahili and Luganda are also widely spoken.
Principals ethnic: Baganda, Banyakole, Basoga, Bakiga, Iteso, Langi, Acholi, Bagisu, Lugbara, Bunyoro.
Life expectancy: 54.8 years
Schooling: Men 76.8%, Women 57.7%.
HDI: 0.456