Spirituality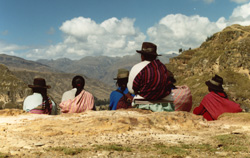 A Comboni Lay Missionary's spirituality is centered upon following Jesus. Through a process of continual personal and communal discernment, the CLM views his or her choice to follow Jesus as a mature vocation, as a responsible and active member of God's people within the ministry of the Church.

The CLM's vocation of incarnation requires us by faith to use our human and Christian identity to strive for justice, act as witnesses for God in the world, and realize the mission of Jesus: transforming history in the realm of human solidarity.   
We live our call to Mission not only as skilled professionals, but rather as Christians who are moved by our faith.

The essential character of a CLM is being called to life-long mission. This calling is founded upon a personal encounter with Jesus and is evidenced by a continual commitment to serve those to whom we are sent.

We are aware that our missionary vocation leads us to far borderlands and we therefore often go beyond our customary church, cultural and social boundaries to reach places far and near that are not yet familiar with the Gospel message.

For this reason, we need to continually refer back to the experience of Daniel Comboni who enlightens us on our committed Christian path.  Inspired by Daniel Comboni, we live our vocation in light of his charism.  We believe that Comboni and his works are a gift for the universal Church and the world.  He invites us to:
Encourage the development of self-sufficiency for the poor and marginalized whom we serve, allowing them to become protagonists of  their liberation. As lay persons, we are called to the support the local lay community and ministries in the service of the local people;
Work together with those whom we serve, conscientious that the mission does not belong to us but that we are simple servants in the mission of our Father;
Use simple means with the assurance that God will give to us what is necessary;
Be aware that the mission implies acceptance of inevitable difficulties and sufferings (Comboni said that the works of God must be born and grow at the foot of Calvary); yet, in the face of possible frustration and failure, life is created and generated for the people served in Jesus.
If you are interested to gain a deeper understanding of Daniel Comboni's personality and charism, you are invited to enter in the Formation Tab where you will explore further topics related to mission, such as culture, development, etc.