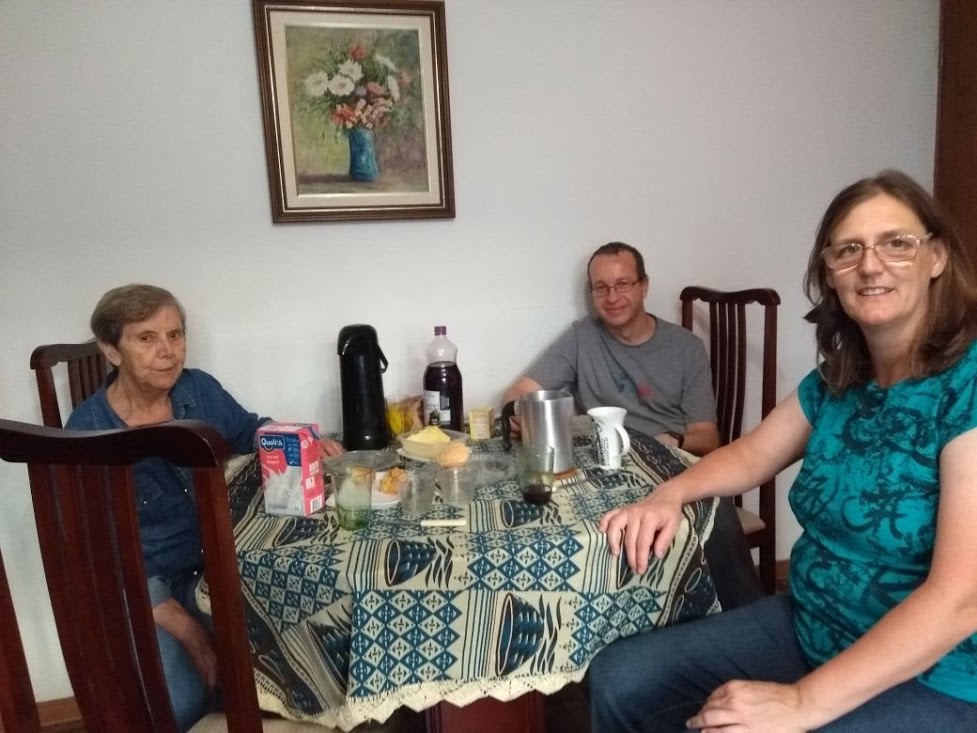 The trip to Curitiba became a little heavy, traveling at night with your knees wedged into the seat in front of you is not really comfortable. But, as Cristina says, it is one of disadvantages we tall people have.
Cristina, a Brazilian CLM and member of the central committee, andAlex, a Comboni postulant, took me to the postulancy where I will stay these days.
Since Cristina was busy, I went with the Comboni community to a lecture on a thesis about the decree ad gentes and an experience with the Pokot of Uganda. As you can see, in this mission trip there is a little bit of everything.
Later in the afternoon I was able to go see Guilherma, a Brazilian CLM who did a lot of work in Mozambique. She is in poor health. We hope she will recover her strength. We spent a good afternoon together, conversing and snacking.
In the evening we attended a formation program on global violence as part of the fraternity campaign of this year in Brazil. It is part of the formation given in the Comboni parish of Curitiba. These were three days of evening formation sessions and they were attended by 110 people. I thought it was marvelous to see this expression of a Church being formed and attempting to be involved in the reality in which it lives, looking for answers. This sort of thing is not easily seen elsewhere.
But not everything is meetings and gatherings. The following morning they took me to visit the botanical gardens of Curitiba. There was time to share with the community of the postulancy and to visit the city.
In the afternoon I met with part of the CLM group of Curitiba. They took me to see the places where they want to get involved as a group. We spent time with the "catadores." These are people who gather non-organic garbage, organize it, select it and sell it to make a living. This way they take charge of recycling for the city. They have formed an association to which they want to give a legal form in order to improve their living standards and here is where the local CLM group cooperates.
Later we also visited a community bakery, organized as a cooperative, both as work and as earnings. All this happens in a neighborhood at the periphery of the city (a rather violent one, to be sure). This is another area where our CLM are working and cooperating.
In the evening I was able to get together with the CLM group of Curitiba, and we had time to share about our CLM at the international level, to tell them about what other groups and communities are doing and to answer their questions. It was a good time where we could share the life of our CLM around the world. Let us hope that some will also feel inspired to leave for other places as the Brazilian group has been doing since forever.
Greetings,
Alberto